Yesterday, Cassie posted about her students' most anticipated January reads. Today I'm focusing on YA releases that my 8th graders have been clamoring to get their hands on. I admit, I have a major book gap-Fantasy. We need some recommendations of January and February releases for this genre!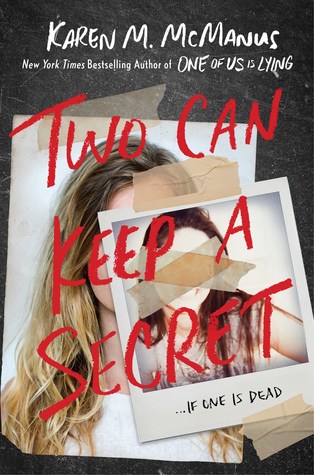 Echo Ridge is small-town America. Ellery's never been there, but she's heard all about it. Her aunt went missing there at age seventeen. And only five years ago, a homecoming queen put the town on the map when she was killed. Now Ellery has to move there to live with a grandmother she barely knows.
The town is picture-perfect, but it's hiding secrets. And before school even begins for Ellery, someone has declared open season on homecoming, promising to make it as dangerous as it was five years ago. Then, almost as if to prove it, another girl goes missing.
Ellery knows all about secrets. Her mother has them; her grandmother does too. And the longer she's in Echo Ridge, the clearer it becomes that everyone there is hiding something. The thing is, secrets are dangerous--and most people aren't good at keeping them. Which is why in Echo Ridge, it's safest to keep your secrets to yourself.
Seventeen-year-old Rukhsana Ali has always been fascinated by the universe around her and the laws of physics that keep everything in order. But her life at home isn't so absolute.
Unable to come out to her conservative Muslim parents, she keeps that part of her identity hidden. And that means keeping her girlfriend, Ariana, a secret from them too. Luckily, only a few more months stand between her carefully monitored life at home and a fresh start at Caltech in the fall. But when Rukhsana's mom catches her and Ariana together, her future begins to collapse around her.
Devastated and confused, Rukhsana's parents whisk her off to stay with their extended family in Bangladesh where, along with the loving arms of her grandmother and cousins, she is met with a world of arranged marriages, religious tradition, and intolerance. Fortunately, Rukhsana finds allies along the way and, through reading her grandmother's old diary, finds the courage to take control of her future and fight for her love.
Max: Chill. Sports. Video games. Gay and not a big deal, not to him, not to his mom, not to his buddies. And a secret: An encounter with an older kid that makes it hard to breathe, one that he doesn't want to think about, ever.
Jordan: The opposite of chill. Poetry. His "wives" and the Chandler Mall. Never been kissed and searching for Mr. Right, who probably won't like him anyway. And a secret: A spiraling out of control mother, and the knowledge that he's the only one who can keep the family from falling apart.
Throw in a rickety, 1980s-era food truck called Coq Au Vinny. Add in prickly pears, cloud eggs, and a murky idea of what's considered locally sourced and organic. Place it all in Mesa, Arizona, in June, where the temp regularly hits 114. And top it off with a touch of undeniable chemistry between utter opposites.
Over the course of one summer, two boys will have to face their biggest fears and decide what they're willing to risk -- to get the thing they want the most.
In a lush, contemporary fantasy retelling of Beauty and the Beast, Brigid Kemmerer gives readers another compulsively readable romance perfect for fans of Marissa Meyer.

Fall in love, break the curse.
It once seemed so easy to Prince Rhen, the heir to Emberfall. Cursed by a powerful enchantress to repeat the autumn of his eighteenth year over and over, he knew he could be saved if a girl fell for him. But that was before he learned that at the end of each autumn, he would turn into a vicious beast hell-bent on destruction. That was before he destroyed his castle, his family, and every last shred of hope.
Nothing has ever been easy for Harper. With her father long gone, her mother dying, and her brother barely holding their family together while constantly underestimating her because of her cerebral palsy, she learned to be tough enough to survive. But when she tries to save someone else on the streets of Washington, DC, she's instead somehow sucked into Rhen's cursed world.
Break the curse, save the kingdom.
A prince? A monster? A curse? Harper doesn't know where she is or what to believe. But as she spends time with Rhen in this enchanted land, she begins to understand what's at stake. And as Rhen realizes Harper is not just another girl to charm, his hope comes flooding back. But powerful forces are standing against Emberfall . . . and it will take more than a broken curse to save Harper, Rhen, and his people from utter ruin.
A killer is on the loose, and only one girl has the power to find him. But in this genre-bending YA thriller, she must first manage to avoid becoming a target herself.
For Adele, the dead aren't really dead. She can see them and even talk to them. But she's spent years denying her gift. When she encounters her ex best friend Tori in a shallow grave in the woods and realizes that Tori is actually dead -- that gift turns into a curse. Without an alibi, Adele becomes the prime suspect in Tori's murder. She must work with Tori's ghost to find the real killer. But what if the killer finds Adele first?
In The Lonely Dead, master mystery writer April Henry adds a chilling paranormal twist to this incredibly suspenseful young adult novel.
In New York Times bestselling author Maureen Johnson's second novel in the Truly Devious series, there are more twists and turns than Stevie Bell can imagine. No answer is given freely, and someone will pay for the truth with their life.
The Truly Devious case—an unsolved kidnapping and triple murder that rocked Ellingham Academy in 1936—has consumed Stevie for years. It's the very reason she came to the academy. But then her classmate was murdered, and her parents quickly pull her out of school. For her safety, they say. She must move past this obsession with crime.
Stevie's willing to do anything to get back to Ellingham, be back with her friends, and solve the Truly Devious case. Even if it means making a deal with the despicable Senator Edward King. And when Stevie finally returns, she also returns to David: the guy she kissed, and the guy who lied about his identity—Edward King's son.
But larger issues are at play. Where did the murderer hide? What's the meaning of the riddle Albert Ellingham left behind? And what, exactly, is at stake in the Truly Devious affair? The Ellingham case isn't just a piece of history—it's a live wire into the present.
For Sophie, small town life has never felt small. With her four best friends―loving, infuriating, and all she could ever ask for―she can weather any storm. But when Sophie's beloved Acadia High School marching band is selected to march in the upcoming Rose Parade, it's her job to get them all the way to LA. Her plan? To persuade country singer Megan Pleasant, their Midwestern town's only claim to fame, to come back to Acadia to headline a fundraising festival.
The only problem is that Megan has very publicly sworn never to return.


When Abdi's family is kidnapped, he's forced to do the unthinkable: become a child soldier with the ruthless jihadi group Al Shabaab. In order to save the lives of those he loves, and earn their freedom, Abdi agrees to be embedded as a spy within the militia's ranks and to send dispatches on their plans to the Americans. The jihadists trust Abdi immediately because his older brother, Dahir, is already one of them, protégé to General Idris, aka the Butcher. If Abdi's duplicity is discovered, he will be killed.
For weeks, Abdi trains with them, witnessing atrocity after atrocity, becoming a monster himself, wondering if he's even pretending anymore. He only escapes after he is forced into a suicide bomber's vest, which still leaves him stumps where two of his fingers used to be and his brother near death. Eventually, he finds himself on the streets of Sangui City, Kenya, stealing what he can find to get by, sleeping nights in empty alleyways, wondering what's become of the family that was stolen from him. But everything changes when Abdi's picked up for a petty theft, which sets into motion a chain reaction that forces him to reckon with a past he's been trying to forget.
In this riveting, unflinching tale of sacrifice and hope, critically-acclaimed author Natalie C. Anderson delivers another tour-de-force that will leave readers at the edge of their seats.