Oh, hey! It's been a while! I'm just over here grappling with the fact the fact that today is the last day of 2018! I feel like I was just setting personal reading goals for the year and now I'm wrapping up those goals and thinking of a goal for 2019! Watch for a post on goals and a post with my favorite middle-grade reads of 2018.
I have been reading a lot the past few months so I thought I'd do a quick Bullet Review post!
The Prophet Calls by Melanie Sumrow
·
For fans of:
Amal Unbound, George, Refugee, A Night Divided
·
First line:
"Let's play apocalypse!" my cousin yells.
·
The book:
The Prophet Calls is about Gentry who was born into a polygamous community in New Mexico. She lives apart from the outside world and its "evils." Things happening in Gentry's community make her uneasy and she begins to question the Prophet, who is in prison but calls frequently with his revelations from God. What happens if Gentry continues to question the Prophet? What will happen to her family when the Prophet has a revelation that could destroy her family? You will not want to put this book down.
·
The author:
The Prophet Calls is Melanie Sumrow's debut novel. She has studied world religions for my many years now. Before becoming a writer, she worked as a lawyer working with many teens and children. Find Melanie on Instagram and Twitter @melaniesumrow
·
Read it for:
That "edge-of-your-seat-just-one-more-chapter" feeling. I haven't read anything like this and I'm officially looking for more.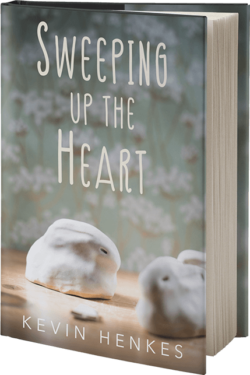 Sweeping up the Heart by Kevin Henkes
·
For fans of:
For All The Boys I've Loved Before, Every Day, Sarah Dessen
·
First line:
"Poor Amelia Albright. Gordon Albright's daughter. Poor thing, people said."
·
The book:
Do you ever have kids in your class that like romance but they're too young for YA? This is perfect because the love story is so innocent and sweet (but not too sweet, it's very realistic). This book will be perfect those fans. PERFECT!
·
The author:
Kevin Henkes is best known for his picture books like Chrysanthemum and Lily's Purple Plastic Purse, but his chapter books are also fantastic. I love an author that can do it all!
·
Read it for:
A sweet love story with a lot of depth.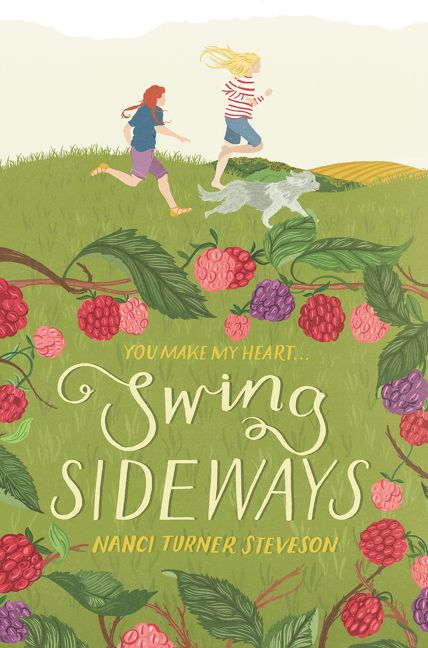 Swing Sideways by Nanci Turner Steveson
·
For fans of:
One for the Murphy's, Eight Keys, Georgia Rules, and Out of My Mind.
·
First line:
"Mom's voice flew back at me from the front seat. 'Annabel. Did. You. Eat. Your. Sandwich?'"
·
The book:
Annie (Annabel) just wants a summer of freedom. Away from her overprotective mother and just wants a chance to spread her wings
…
to be herself. She meets California, who is visiting her grandfather's farm nearby. California seems like the perfect partner to help Annie break out of her shell. Annie learns about true friendship and just how fragile it can be.
·
The author:
Nanci Turner Steveson really knows how to write a story that will tug at your heartstrings! She interactive online and loves to connect with kids
–
she sent my group that was reading this book bracelets and bookmarks and they were SO EXCITED!
·
Read it for
: a beautiful story about secrets and friendship.
A Long Walk to Water by Linda Sue Park
·
For fans of:
historical fiction, A Night Divided, Refugee, Amal Unbound and El Deafo.
·
First line:
"Going was easy. Going, the big plastic container held only air."
·
The book:
A beautiful non-fiction narrative about two kids in Sudan
–
Nya and Salva. You don't know why both stories are being told simultaneously but when you find out
…
The story is mostly about Salva and how he tries to survive in Sudan after walking away from his war-torn village when he's just a boy.
·
The author:
Linda Sue Park has won a Newbery for her book, A Single Shard and has written picture books and poetry as well as fiction, historical, and contemporary for young readers. She worked as a journalist, a copywriter, and a teacher of English as a Second Language. She now writes full time.
·
Read it for:
a moving true story that will stick with you.
Shouting at the Rain by Lynda Mullaly Hunt
·
For fans of:
One for the Murphy's, Fish in a Tree, Out of My Mind, Counting by 7s, Because of Mr. Terupt.
·
First line: "
There are two kinds of people. People who like surprises and people who don't."
·
The book:
Delsie is at that stage of her life where she is figuring out what is considered socially "normal" and she's learning that her family, her house, her lifestyle
…
is not "normal." Lynda Mullaly Hunt knows how to create characters that latch onto your heart and won't let go. I adored Delsie just as much as Ally and Carley.
·
The author:
If you teach upper elementary and up, you probably know Lynda Mullaly Hunt. If you don't, well, you're in for a treat. Her books are so relatable and her characters are phenomenal. Her books are on many awards lists and should not be missed by kids and adults alike.
·
Read it for:
a realistic fiction story with a lot of heart.
Dactyl Hill Squad by Daniel Jose Older
·
For fans of
: historical fiction with a twist, The Night Gardener, and The Boundless
·
First line:
"Margaret!" Magdalys Roca sat on her bed in the girls' bunk at the Colored Orphan Asylum and closed her eyes. Her day satchel was packed, her uniform was on, shoes buckled; she'd wrestled her hair into a tight bun the way the matrons insisted she do. The triceratops wagon was leaving any second of the theater
…
·
The book:
It's 1863 and dinosaurs roam the streets of New York as the Civil war wages between raptor-mounted armies down South. Magdalys Roca and her friends from the Colored Orphan Asylum are on a field trip when the Draft Riots break out, and a number of their fellow orphans are kidnapped by an evil magistrate, Richard Riker.
·
The author:
This is Daniel Jose Older's debut series for young adults and he nailed it!
·
Read it for:
something fun and different. If you or someone you know loves historical fiction and can handle a fantastical flip, then pick this one up!
The Missing Piece of Charlie O'Reilly by Rebecca Ansari
·
For fans of:
The Peculiar Incident on Shady Street, When You Reach Me, Holes, and Margaret Peterson Haddix
·
First line
: Charlie O'Reilly was an only child. It, therefore, made everyone uncomfortable when he talked about his little brother.
·
The book:
Have you ever wished for something that deep down you didn't *really* want? What if you wished your little brother would go away and then
…
he did? Charlie's brother Liam is gone one day. Not abducted or ran away gone, but never-existed gone and Charlie is an only child. Except
…
he knows he's not really an only child. This book is SO GOOD. DO NOT MISS IT.
·
The author
: Rebecca K.S. Ansari is a former ER doctor. This is her debut novel for kids. She lives in Minnesota with her husband, four sons, and some seriously massive pets. She can be found on Instagram and Twitter @rebeccaksansari
·
Read it for:
a middle-grade type thriller that will keep you on the edge of your seat and flipping pages as fast as you can. It's hefty, but I have kids reading it that rarely read books bigger than 250 pages and they aren't missing a beat.
What have you been reading? Tell me in the comments below or find me on Twitter or Instagram @IowaAmberReads. Happy reading!
1