Welcome to our blog! I'm excited to review The Beginner's Guide to Winning an Election by Michael R. French. Be sure to scroll to the bottom for a chance to win a copy!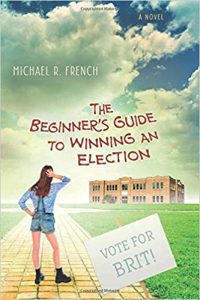 SYNOPSIS
Brit Kitridge's plan was just to get her high school diploma and head to college and med school, but nobody can escape from fate, or is it history? The Beginner's Guide To Winning an Election reveals our main character's love for history, and after a summer reading books that fuel her passion for politics, Brit decides to join TM (Team Mathew), a fourteen-member group that has helped Mathew Boltanski win every election he's ever entered. Now he's going for the big one—student body president. By orchestrating brilliant campaigns one after the other, TM has made Matthew a national young star and promising politician who could even run for higher office in Washington. When Brit is accused of sabotaging the team, she realizes that Hawthorn High has its secrets, and someone needs to shed some light on them. The story is set in a world six years ahead of our time. Security is a constant issue. Politics isn't black-and-white, it's not even gray anymore. Inflation is out of control and the educational system is in crisis. But what happens when you find out what's really going on? What do you do with secrets no one but you wants to hold up to the light?
MY THOUGHTS
This book takes place in the near-future-2025. The U.S. is entrenched in wars, cyber attacks, and economic crises. And in a small Indiana town, a girl named Britain is hoping to win the student body president election at her high school. But her opponent Matt, plays dirty. In this fast-paced plot, Brit struggles until a mysterious person begins helping her with her campaign strategy.
This is a true underdog story. Matt is the stereotypical popular kid, with a wealth of resources at his disposal. Brit wants transparency and learns that it will come at a cost. I loved Brit's platonic relationship with her history teacher, and the focus on a strong public school system. At it's core, this book is about using your political voice by voting-something our teenage population needs to read about. Be sure to add this to your classroom libraries for grades 7-12!
About Michael R. French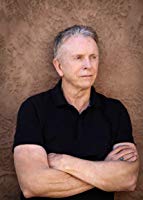 National best selling author Michael French is a graduate of Stanford University and Northwestern University. He is a businessman and author who divides his time between Santa Barbara, California, and Santa Fe, New Mexico. He is an avid mountain trekker, likes to visit developing countries, and with his wife, Patricia, started a 501(c) 3, Dollars4Schools, to support public school teachers in Santa Fe.
He has published twenty four books, including fiction, young adult fiction, biographies, and art criticism. His novel, Abingdon's, was a bestseller and a Literary Guild Alternate Selection. His young adult novel, Pursuit, was awarded the California Young Reader Medal

.

Purchase Links
Enter Giveaway for an ARC